FREE ARTS AUCTION GALA 2019, VOGUE
VOGUE.COM Emmy Rossum, Maggie Gyllenhaal, and More at the Free Arts NYC Annual Auction
While browsing extraordinary works to bid on by such art luminaries as Alex Katz, Sterling Ruby, Richard Serra, and Christopher Wool, guests perused the debut art exhibition of aspiring teenage artists from Free Arts NYC's Portfolio Mentorship, Creative Career Exploration, and Museum and Studio Visits programs. Then they discussed the artwork over Perrier-Jouët Grand Brut Champagne and hors d'oeuvres from Casa Lever while the band Onyx Collective played in the background to set the mood. A sit-down dinner at tables decorated with floral arrangements from Aurora Botanica was followed by a live auction led by Sotheby's Andrea Fiuczynski. Among the works up for auction included an untitled oil and etching on paper by Christopher Wool, which was presented by handlers from Crozier Fine Arts. Afterward, the Avalon Jazz Band kept everyone dancing late into the night.
AD WEEK - FEATURE FROM OUR COLLABORATION WITH FOHR CARD + VIKTOR & ROLF
It turns out, social media marketing doesn't have to be same old, same old. More often than not, you scroll through social feeds or streams and see a celebrity or other popular user of the platform promoting an item by holding it or standing near it, with a bland smile and generic copy pasted into the photo's description.
Now, of course, not every sponsored post plays out like this. But a lot do. And where's the fun in that?
Through a new campaign, which launched last September, Viktor & Rolf took its Flowerbomb fragrance brand into the 21st century. The company combined brand messaging, hints of surrealism and whimsicality, and nodes of dreaminess, and created something exciting and new for influencers.
Instead of shipping various influencers bottles of their fragrance, Viktor & Rolf worked with influencer marketing platform Fohr Card to carefully select influencers who "match our consumer and embody our brand," Laura Azaria, vp of marketing for European fragrances at L'Oréal USA, told Adweek.
"We weren't interested in them just having a fragrance bottle in their hands, though we do love our bottle," Azaria said. "It's beautiful."
Instead, Viktor & Rolf worked with various designers and the influencers themselves to create a lush flower-scape for influencers to interact with and eventually post on their own social channels.
"It was the perfect campaign for me to work with," said Katie Rodgers, also known as @paperfashion on Instagram. Rodgers started to post her art online in 2009 while working full time before eventually quitting her job to pursue her own work a few years later.
"This totally captured the dream worlds that I try to paint, but it was IRL [in real life]," said Rodgers.
Her fans seemed to agree. In fact, a few of the #flowerbomb influencers saw more engagement on those particular photos than their usual posts, as reported by Fohr Card who managed the campaign. Rodgers saw a 45 percent increase over her normal engagement. Jeanne Grey, who posts on @thegreylayers with lifestyle and travel content, saw the highest engagement of the campaign, with 5.82 percent.
"Not only was this campaign unique and really visually appealing, but it also was great to have different creative styles come together," Grey told Adweek. "The florist was there, a team of photographers was there, and we all created this one masterpiece at the same time."
Grey, as her name might suggest, typically posts in a fairly monochromatic aesthetic. This wasn't on purpose, her intentions weren't to attract all her 194,000 followers with some kind of dulled beacon.
"Social media kind of fixed my life, even though normally it goes the other way around," said Grey. "Things got better because it directed my aesthetic. By toning everything down, that simplified the mess of everyday life."
A lot of Instagram profiles can become popular due to their consistent theme or overall color scheme; curating your Instagram feed, and choosing who to follow, is just as intimate as deciding what to post. To that end, viewing your feed is like dipping into your own private space that you got to decorate just how you like.
That's what makes social influencers so powerful. Their fans, or audience, have chosen specifically whose content to pay attention to, whether its funny memes or twee photos of barns. Influencers understand how important that relationship is, and they don't want to abuse that trust.
"For other influencers, it's important to open conversation with those partners," said Rodgers. "You might not right away feel like you want to do it, it may not feel quite right. But you're allowed to feel more confident and ask if you can get more creative. Make it your own."
"Partners are more open to your ideas than you might think," she said. "This was something I felt would really resonate with my audience."
"The relaunch of this 11-year-old campaign came with print advertisements, and this social campaign was a big portion of our overall plan," said Azaria. "It felt new and different, and we were able to convey our aesthetic throughout."
"We always want to continue to dream," she said. "Marketers can't just try to apply the same recipes that already exist, because it's not enough anymore."
GLAMOUR MAG FEATURE: KELSEY MILLER WEDDING
Bouquet of wild jasmine, crimson garden roses, burgundy hellebores and ranunculus for author and style icon Kelsey Miller on Glamour Magazine, April 2017
THE SPRUCE: 10 BEST FLORISTS TO FOLLOW ON INSTAGRAM
article on THE SPRUCE featuring us on their top 10 florists to follow on IG!
INSTYLE MAG STONE FOX BRIDE X THE DRIVE X THE BLACK TUX
Flower bouquets, crowns and garlands for INSTYLE MAG FEATURE:
"What do you get when you cross Stone Fox Bride, The Black Tux, and Time Inc.'s The Drive? A killer collection of classic Just Married cars adorned in pom poms, feathers, and flowers—plus a crew of smoking-hot automotive experts dressed in their Sunday best....."

Photography: Bon Jane
 
NANCY + SHANE'S WEDDING PHOTOGRAPHED BY THE RAMSDENS
Shane + Nancy had the most magical intimate wedding on the Manhattanville College campus, photographed by The Ramsdens.
TORY BURCH BLOG
" At one point or another it seems every little girl falls in love with the magical world of flowers, fairies and wood nymphs. As a result, it's no surprise that Rawan Rihani, the Brooklyn-based designer and floral artist, has hit a Proustian nerve with her company Aurora Botanica, whose signature look, ethereal crowns made out of blossoms and berries, seem to be appearing at all the chicest weddings and events around town. Here, Rihani tells us a bit about her inspirations, gives us some tips for setting a summer table and shares the most important rule of thumb when it comes to creating an arrangement at home. "
Grey likes weddings: REAL WEDDINGS, SAGA AND JAKE'S EUROPEAN-INSPIRED GARDEN WEDDING
Published on May 9th, 2016 ( click image to view full article )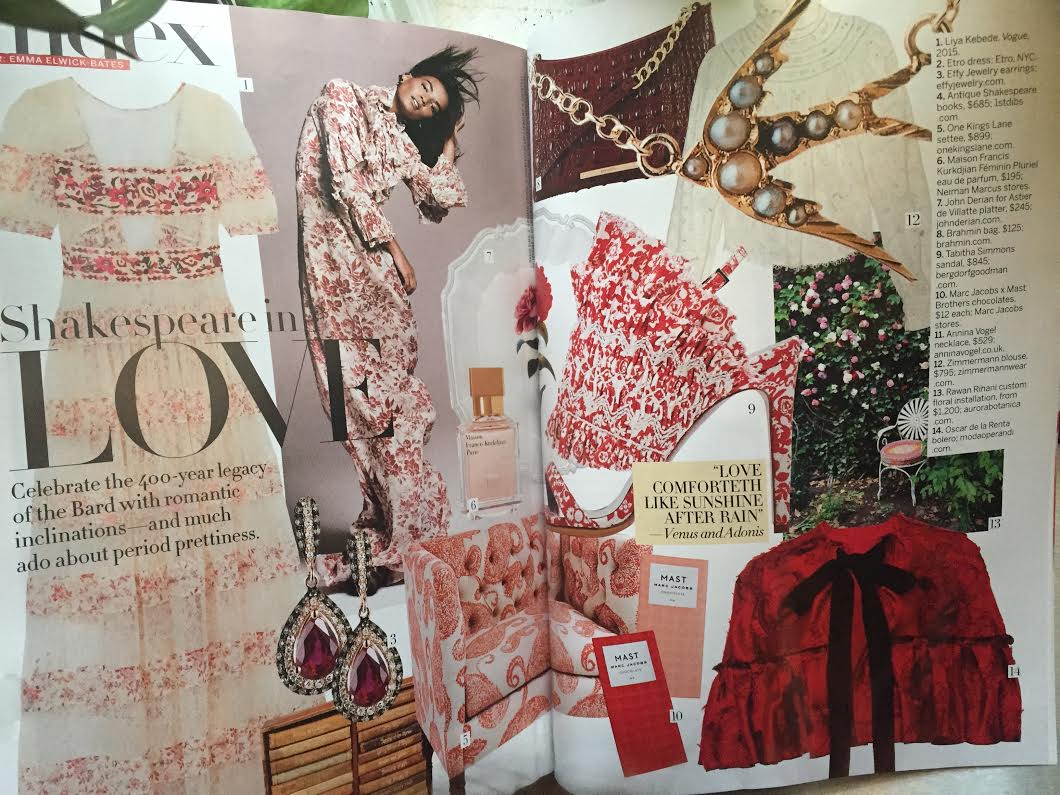 VOGUE, FEBRUARY 2016 "SHAKESPEARE IN LOVE" INDEX
February's issue of Vogue Magazine features our flower installation in their "Shakespeare in Love" index.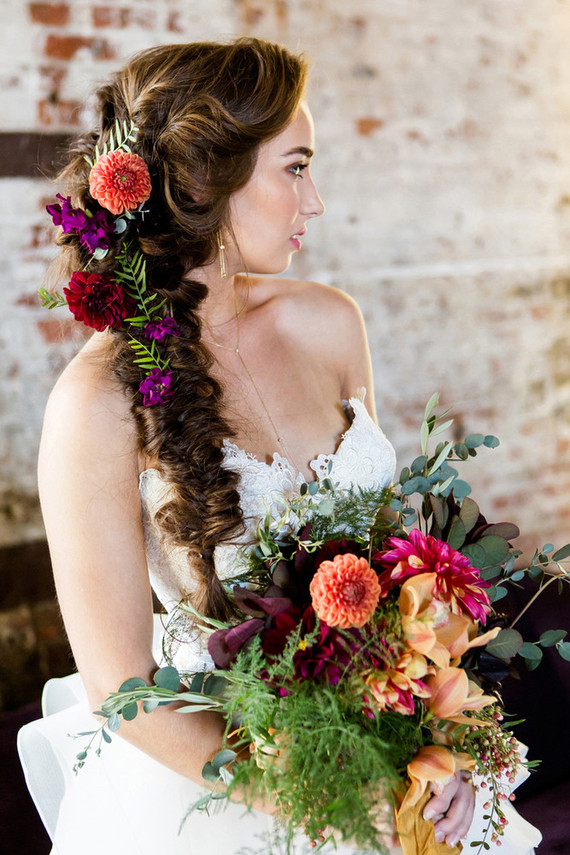 JEWEL TONED WEDDING INSPIRATION ON 100 LAYER CAKE, JAN 2016
Harper's bazaar UK december 2015
Couture fresh flower headpiece feature. Photo by Victor Demarchelier, Hair by Nicholas Jurnjack, Makeup by Christian McCulloch, Dress by Marchesa, Model is Liu Wen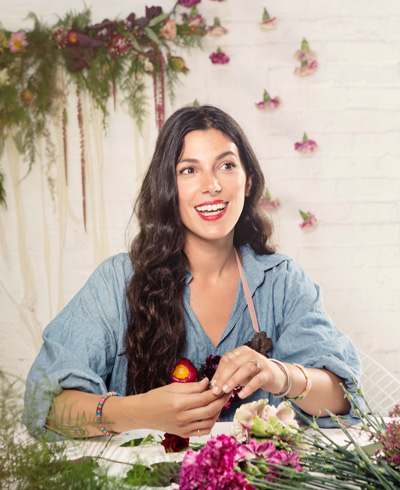 CLINIQUE: Pretty Easy DIY Flower Necklace NOVEMBER 2015
"An unexpected element makes something feel fresh—that's great fashion," says Rawan Rihani, NYC floral designer and owner of Aurora Botanica. With her signature twist of painterly and playful, wild and couture, she designed this floral necklace just for us—a DIY accessory that will take any outfit to a whole new level. Granted, this is jewelry with a limited lifespan…(you'll want to make it the day you wear it). But the impression it makes? The photos? They'll be the stuff of style legend.
The Inspiration: Fresh Fashion
"This is a fresh alternative to a floral crown, a new way to wear a flower accessory—and one that's seasonless. A flower necklace is a versatile and beautiful way to combine a lot of detail. That's how I approach my floral designs and how I make an outfit, too. I'm attracted to that lush, luxe feeling of mixed textures."
The Color Palette: Rich + Gilded
"I'm inspired by early autumn. This time of year, the flowers become rich and darker with hints of gold and saffron. And I think of the sunsets hitting leaves through the trees. Warm crimson meets the jewel-toned burgundies of dahlias and the deep, dark purples of ranunculus. Strawflowers that have pops of gold in their centers and remind me of Gustav Klimt paintings. "
The Art of: Choosing Blooms
"At the market, I go in as if I'm working with art. I pick a flower because of its color and form; I see what I'm drawn to, and then I see what I can create. I'm also a fan of beautiful smells, and I always play with light and color."
The How To: DIY Floral Necklace
You'll want blooms that can last a while without water. Favorite non-wilters are orchids, dahlias, freesia, strawflowers, spray roses and anthurium. Refrigerate between making and wearing it—ideally happening on the same day—and it should last for a whole evening out.
Click through for the DIY steps!
HONOR // blog May 6, 2015
MAY 6, 2015
If anyone knows flowers, it's Rawan Rihani. This bloom-thumbed beauty is the femme florale behind the ethereal crowns in the HONOR x Stone Fox Bride campaign and video. She can craft a flower headpiece with such ease and grace that you'd think it grew out of the ground like that. We spoke with her about essential oils, botanical gardens and the attitude you need to live in New York.
Tell us about your workspace.
My workspace is very peaceful and full of plants. I live in my working studio currently, and I try to keep my studio really calm and peaceful. I try to make it feel like an escape from the city, and always have music on. My studio is filled with work in progress for Stone Fox Bride as well as canvases for paintings and weavings and shelves filled with shells, beads, feathers, vases, crystals, and dried flower crowns.
Signature scent?
My signature scent would probably be the "Love" roll-on oil by Auric Blends from Whole Foods. I love to also play with mixing different essential oils like lavender and vetiver, and make my own perfumes blending some of them together. I also love the Cedrus scent by Fiele Fragrances and also Moonshine by Sisters of the Black Moon they both have a very earthy/woodsy feeling to them that bring me to the mountains.
Favorite outdoor pastime?
I love going to the Brooklyn Botanical Gardens and soaking up some sun while walking through the different gardens there.
If you could swap lives with someone for a day, who would it be?
I wouldn't. I would never want to swap lives, Im engaged to an amazing man, and have a beautiful cat I cuddle with everyday, have an amazing family and have the freedom to make and create everyday. I wouldn't want to lose that even for a day.
Describe living in New York in one word.
Compromise. Living in New York has always and still is compromise. Although, I do what I love, and love my life, living in NY is a compromise, everything is a compromise here, but what you get back is worth what you put in and worth dealing with it.
Song you can't get out of your head lately?
"Be Mankan" by Ali Farka Toure This song is following me everywhere and Im addicted to it. Its so beautiful and passionate and raw and gorgeous. Also, "Gnosis" by Fancy Colors, this song was written by my fiancee Zac Colwell, and the drummer/ co-collaborator of Fancy Colors, David Heilman just made a beautiful music video for this song. It makes me feel like Ive been in the sun all day at the beach and sun-dazed and happy.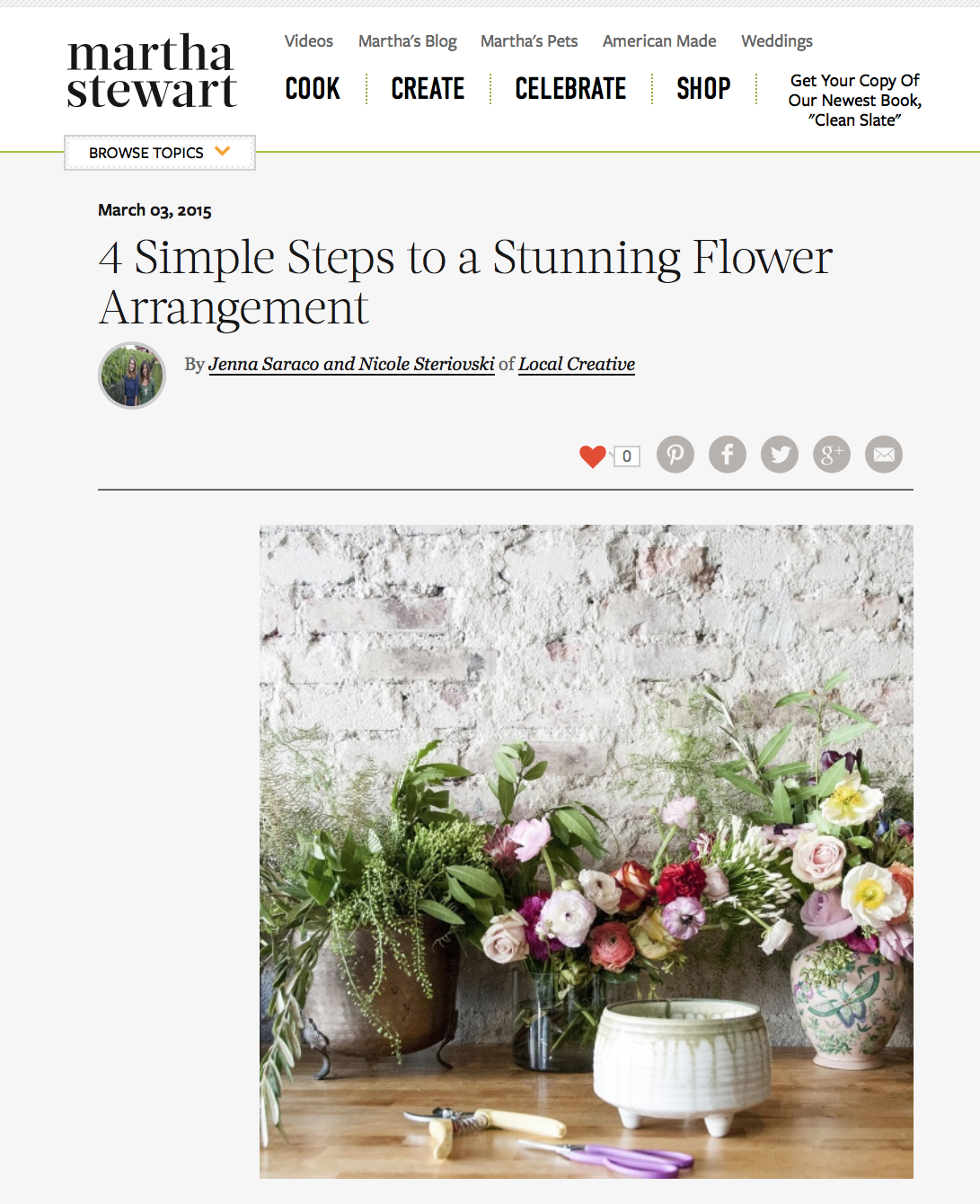 Martha Stewart, "4 Simple Steps to a Stunning Flower Arrangement", March 3, 2015
"It's no secret that flowers are the perfect way to brighten any room. We decided to put together an arranging workshop for our blog Local Creative, and were so thrilled to work with the flower goddess Aurora Botanica (also known as Rawan Rihani). Rihani is an insanely talented florist, painter, and textile artist, and all-around sweet gal. She has been cool enough to spill the beans and share the magic behind creating dreamy, lush arrangements with a natural and painterly feel. Read on for her step-by-step." Click on the link to read more....
Local Creative feature, "Maker's make: flower arranging with Aurora Botanica", April 2015
Local Creative feature on their blog, DIY flower arranging and some Q + A
"What is a florist's favorite flower?
A florist's favorite flower or anyone's favorite flower is one that captures your heart. I go through flower crush phases, for instance last year, I was crazy over dahlias + ranunculus (deep + dramatic feeling flowers) , and this year I am more of a hellebore, clematis + poppy (softer +lighter hearted) type of gal!
When did flowers begin calling your name?
I've always felt super connected to nature + flowers, and always used them as source of inspiration for art. Flowers always had my heart. But it was really when I picked up a few shifts at Sycamore Flower Shop + Bar in Ditmas Park, that I fell in love with working with flowers. As an artist + designer, I felt like I found the perfect medium because not only can you play with color, texture, mood, composition but you are also working with a medium that is also alive and has a vibrational energy that came from the earth and that is ephemeral. This combination is what makes working with flowers extra special, therapeutic + uplifting and such a beautiful art form.
What is your sign? How do you think that affects your work?
Im a Taurus. I do identify myself with it because it is said that Taurus surrounds themselves with beautiful things and gathers energy from the earth. Also they say that Taurus is patient, I think I'm a very patient person, and enjoy the process of making, so much that I hate to be rushed!
In addition to floral arrangements, how else do you express your art?
I paint, and dye textiles, weave and will always be trying new things. It is important for me to create and experiment. I believe that when you experiment, is when you discover, and that is a great source of inspiration that can most likely have an influence on the other art forms I practice daily.
What can we look forward to from Aurora Botanica this spring?
New hand painted silks, hand-dyed textiles + weavings for this Spring. Id like to also create some natural perfumes inspired by different flower combinations and scents from nature, but this will most likely be later this year. Im also looking forward to the collaborative workshops that are in the works for Spring. "
NY Mag, Wedding Issue, "The Cakes Are Alive", March 2015
Cake styling for Luckybird bakes vanilla bean lemon zest 4 tier cake adorned with strawberries, chocolate cosmos, anemones, ranunculus, jasmine and hellebores.
Gotham Magazine, "Meet New York's Top Flower Designers", Spring 2015
"It girls move on from magazines, PR, and the DJ booth to get down and dirty with Mother Nature..."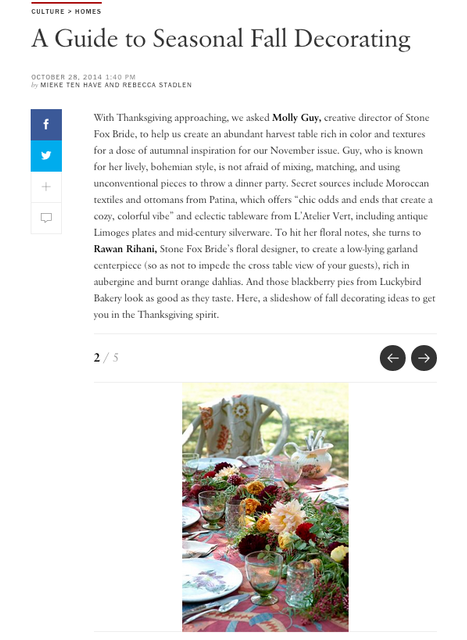 VOGUE MAGAZINE, "A Guide to Seasonal Fall Decorating" October 2014
With Thanksgiving approaching, we asked Molly Guy, creative director of Stone Fox Bride, to help us create an abundant harvest table rich in color and textures for a dose of autumnal inspiration for our November issue. Guy, who is known for her lively, bohemian style, is not afraid of mixing, matching, and using unconventional pieces to throw a dinner party. Secret sources include Moroccan textiles and ottomans from Patina, which offers "chic odds and ends that create a cozy, colorful vibe" and eclectic tableware from L'Atelier Vert, including antique Limoges plates and mid-century silverware. To hit her floral notes, she turns toRawan Rihani, Stone Fox Bride's floral designer, to create a low-lying garland centerpiece (so as not to impede the cross table view of your guests), rich in aubergine and burnt orange dahlias. And those blackberry pies from Luckybird Bakery look as good as they taste. Here, a slideshow of fall decorating ideas to get you in the Thanksgiving spirit.
NEW YORK TIMES, "Game of Thorns," July 2014
"....Rawan Rihani, a graduate of the Rhode Island School of Design who now focuses on floral art for Stone Fox Bride in SoHo, makes both fresh and silk crowns. She believes the trend has grown out of a desire to reconnect with the environment in a digital age. "You cannot help but feel like a goddess in a flower crown," she said. "It's just a small thing, but it changes your entire mentality when you wear it."...."
YAHOO.COM, "How Much Those Flowers At Fashion Shows Really Cost", September 2014
"Flowers are not cheap," says Rawan Rihani, the Floral Guru (yes, that is her title) at Stone Fox Bride in New York. There's the volume aspect—150,000 orchids don't come easily—and then there's the fact that you can find just about any flower at any given time at a price. Sometimes a high one. "I've heard of people asking in the fall if they can get cherry blossoms and I'm like no. Or they will cost $30,000 for a branch. One thing I've learned is to just throw out a number so they can decide," says Patterson....."
Vogue.com, "ArtBinder, Yvonne Force Villareal, Jemima Kirke, and Jose Parla Host a Summer Soiree", July 2014.
ArtBinder, an app that lets art galleries showcase works and keep track of inventory, celebrated the launch of a new product, the ArtBinder Viewer, last night with a bohemian soiree that was right out of a midsummer night's dream. With Alexandra Chemla as the hostess, it's no surprise that the space, which was transformed into an exotic wonderland by designer Madeline Weinrib, was filled with Chemla's closest friends and supporters, dressed in equally festive attire.Zani Gugelmann, Hayley Bloomingdale, Indre Rockefeller, and Natalie Joos in Gypsy Nation Vintage, all kept cool in shades of white and ivory on what may have been one of the hottest nights of the summer yet. Jennifer Fisher and Athena Calderone posed cheek to cheek in their Stone Fox Bride flower crowns, crafted by Rawan Rihani, who was on site making custom crowns for the evening.Natalya Poniatowski and Claire Distenfeld glided across the vintage Moroccan flatweave dance floor in floor-length dresses like Shakespearean heroines whileHannah Bronfman and Valerie Boster watched a performance by Katie Schecter.In between greeting guests like Jemima Kirke, who opted to go flower crown–less, Chemla, in Carolina Herrera, stole a moment to take in the scene. "I sent over a few inspiration boards and said, 'You guys do you'," Chemla said of her vision for the space and working with Weinrib and Stone Fox Bride. "It's really not meant to feel Moroccan, it's more like an integration," said Weinrib. "I've always felt when you hear the word bohemian that's part of what it is—mixing in different ethnic elements." As guests meandered among the carnations suspended from the ceiling like pom-poms, the sounds of a Spanish guitar accompanied the wind-down of the evening.